Cardboard Boxes Brisbane
Cardboard Moving Boxes Brisbane come in a range of shapes and sizes.
Using good quality Cardboard Moving Boxes Brisbane for Shipping. As well as Moving, Relocating or Storing. When you are sending your items interstate or overseas. Will save your items from being damaged while in the process of moving and your items in transit.
For our Full Range of Products and Prices on our Cardboard Boxes Brisbane. Please see our Product & Prices List for more details. Click on the link or double click Product and Prices in the header
Packing and storing to your items or being in transit to either your new home or somewhere else like sending items overseas.
Having strong quality Cardboard Boxes will give you that added piece of mind that your items will get to its destination undamaged. Make you get the right boxes for your move. So if you are moving overseas or long distance. We recommend using at least twin wall cardboard boxes.
Did you know you can get Twin Wall, Triple Wall and Single Wall Boxes.
Same with sending your items by post or courier. Most people have seen on TV or YouTube clips with the way some people treat your boxes and items. Moving it from truck to truck. From the Airport conveyor belt to a truck. Not talking any care but throwing them in. Having strong durable Cardboard Boxes Shipping Boxes will help prevent loss or damage to your items you are posting.
Selling moving boxes and packing items myself. Its shocking to hear what some of my customers have had to say about their experiences of their with a removal company they have used in the past. A couple told me how they caught the men from the removal company dropping boxes from a two story house to the man below who had to catch it and put it in the truck. Or a removal company once told me they to this lady one day who said that they had everything packed up ready to go. Only to find out they were all in plastic bags including. Plate, cups, glasses and other fragile items. In the end they had to wrap everything tightly in removal blankets and hope they none got damaged in the process.
Unless you are there helping the removal company move your items you may not see what they do to try and save time. Even when your items are in the post who knows what the courier driver does. One of my customers who returned a TV to the company under warranty . Sent it by courier. She didn't have transit insurance. The courier company didn't secure his load. Therefor while in transit the other boxes he had in his van hit the TV Box. Damaged the TV and she couldn't get it replaced in the end. If he was doing 40 around the corner. Or having to stop all of a sudden. Image the impact of the boxes flying around the back of the van or truck.
Not all moving stories are bad. You may have moved before and had a great experience. I have head a few of those. Where they have gone the extra mile to help your move go well. When moving with a big or medium company who employ people to move you there is no guarantee that you will get the same guys or girls to move you again. If you have had a good or bad experience let the owners know. If you were really happy with the service. Make sure you keep the names of the people that moved you so you can call on them again or recommend them to your family and friends. Word of mouth is a great way to help a small business.
Cardboard Boxes Shipping Boxes come in all shapes and sizes. As we all know moving is hard and can be stressful.
Here are some tips to help you keep your items safe and damage free while moving and in transit.
Get good quality cardboard boxes. Twin wall for your fragile items like. Glasses, Cups, Plates, Crystals, Vases and single wall is fine for general house hold items.
Having a few of the same boxes like the Crystal Boxes for Fragile items. Book and Wine and the Tea Chest, boxes for general house hold items. Will make it easier for stacking in the tuck.
Portable Robe cardboard boxes are great when moving your shirts, dresses and suites etc.
When sending items overseas or interstate. Depending on the product going in to the box. You maybe better off with twin wall cardboard boxes or shipping boxes. Did you check and pack the box so the item in there does not get squashed if your box happened to be stacked at the bottom of the van or crate. Keep this in mind as you fill the box should another box be placed on top
Strong quality tape. Make sure you get good durable tape that sticks well and does not break as it comes off the roll. So this does not come off the boxes as they are being lifted and moved.
When packing in larger cardboard boxes. Check the weight as you fill it. You don't want to make these boxes to heavy. Same with packing books in medium cardboard boxes
Pack your cardboard boxes fully to the top. Use butchers paper or newspaper, void fill or bubble wrap to fill and gaps prevent your items moving around. ( remember the newsprint comes off the newspaper. Take care when using this as the print does not get on your items.) Check that the box is packed to the top with no gaps. That way your items do not move around and cause damaged to other items. As this is what causes damage to your items. Should they move around while be transported from one place to another.
Mark your cardboard boxes clearly. Have fragile Top Load clearly on the box should the items be breakable
We all know how hard moving can be. Not only physical but also mentally draining. Are you prepared as this is the key to having a stress free move. Having good quality cardboard boxes and packaging supplies will help keep your mind at ease.
At least then you know you have done what you could to prevent damage to your items. Have everything packed by the night before the move. Start packing and De-Cluttering well in advance. There is nothing worst then having the truck or your friends there on moving day to help you move and you have not finished packing with stuff still everywhere. You will also be able to make sure you have enough Cardboard Boxes and Packing supplies to finish the job ready for moving day.
Be Ready On Moving Day.
This could save you a lot of money should you be paying for the removal company or truck per hr.
Top Tip with plates – wrap in Butchers Paper and stand upright in the box like you would your records. They are less likely to break as they are stronger this way.
Have you checked your insurance. Should any of your items be of value. Check the insurance and make sure you are covered. Don't sign anything till you read the fine print
Remember should your box be damaged while in transit. Take photos with the date and time on it before you open the box
As you open your cardboard box. Take more photo's. Should any of your items be damaged. Check the rest of your boxes and contact the transport company, removal company. They should be insured. If any of your items are damaged or broken providing you are covered. Its important to check the insurance. Even when sending items overseas.
When you buy a new TV for your new home, Keep the cardboard box as these can be expensive to replace.
Are you a person that moves around a lot? If you get Good Strong Cardboard Boxes to move with in the first place. You should be able to reuse them should you need to move again. This will save you money down the track.
Cut the tape with a knife and store them flat in a dry cool place ready for your next move
Second Hand Cardboard Boxes are good if you want to save money. When using produce Cardboard Boxes. These can be okay for moving your items. Make sure you have paper at the bottom of the box before you put your items in. Never use these boxes for Storage as the aroma from the fruit or vegetables that were in the box will attack ants and other insects. There maybe no food in the box when you started your packing. The aroma from the fruit or veg will still be there.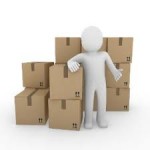 Thanks you for your time. If you have any question please feel free to contact us. Be more then happy to help you where we can in supplying you the right Cardboard Boxes Shipping Boxes to meet your needs
Kind Regards
Roxann Coffey BOX EM UP
Cardboard Boxes Brisbane and Packing Supplies to meet your needs
Save