Cleaning House When Moving Out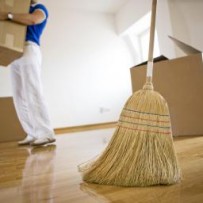 Are you Moving Here are some tips on cleaning house when moving out.
These days to get your bond back when moving you need to get a bond cleaner in to do the job for you If you are renting. Cleaning house when moving out is only one step in getting your bond back. Or if you sold your home you would like the new owners to come to a clean house. Just like you would like to move into a clean and tidy house yourself.
From cleaning your windows, walls, cupboards, bathroom carpets and floor tiles. If you are renting you generally can find a cleaner that charges by the hour. So the more you have done the cheaper it will be as it will be. As less work for the cleaners and more money in your pocket.
Here are some great tips you can follow to help make the process as easy as possible for you. While you are packing and moving yourself. Or if you choose to get professionals in to do the job for you. That way it won't seem like a really big job at the end of your packing
Take photos of before and after the clean has been done
If you are renting. Check with the real estate agent on what needs to be done so you receive your bond back. If there is any damaged to your property that has been caused by you. Let them know if you can't get the damaged fixed yourself.
You may need to use their cleaner or find one yourself. Check their reviews and ABN number to make sure they are legit and will not rip you off. Here is the link to check the Checking ABN ( Australian Business Number
You may be required to book your cleaner in advance from Carpet Cleaners to general bond cleaners. If you can book your own I suggest you get a few quotes and keep the numbers handy just in case. Same with a gardener and the swimming pool if you need to book someone in to do a service before you leave.
Follow up with the cleaners the week before your booking. Just to make sure they are still available to do the job. See if you can also get a copy of the contact with the cleaners and go through it before the job is done.
To save on the cost of cleaning. Especially if you are paying by the hour. You can start by doing some yourself.
As you clean out your cupboards and pack your boxes. Give the cupboards a clean by giving them a wipe over with a damp cloth.
If you have a garage or spare room place all your packed boxes in there so you can start to clean the other rooms and walls and windows in the other rooms as they get packed.
Write a list of what needs to be fixed or done as you are going and cross these off as they get done. Try and do one room at a time so you can keep on top of it.
The carpets are generally the last thing to get cleaned before you move. So make sure you check the other rooms and that everything is completed before the carpets are cleaned. Make sure the carpets are clear of any furniture and boxes etc. So you or the carpet cleaners can get in each room and get the job done without moving items around and wasting time.
If you do have bond cleaners keep the receipt handy and take any photos off items that have not been cleaned properly. If the real estate told you to use them. I suggest you contact the real estate and let them know and show them the photos so you can make sure you get your bond back.
Here is a checklist of what needs to be done and cleaned before you move
Walls give them a wipe over especially if you have young children
Give your lounge a clean before moving or placing into storage
cupboards, wardrobe and drawers
Windows, windowsills and fly screens. Inside and outside
doors inside and out
Curtains and Blinds
Ceilings if moldy or dirty from cobwebs.
Ceiling fans, Light fittings and switches
oven and exhaust fan
Fridge
Any electrical appliance that are staying like the dishwasher
Washing Machine and Dryer don't forget the filters
Bathroom, Toilet and laundry
Fridge. Don't forget to empty the water try if it has one at the back
Air conditioning units including filters
Outside patio, garage, sheds, garden area, decks
Pool and entertainment area.
Tick your jobs off as you complete them
Make sure you tick these off and any other jobs that need doing as you go. When getting professionals in make sure they have easy access to everything they need to get to so they can get the job done quickly and efficiently.
Even though moving and cleaning is a big job and can get a bit overwhelming the sooner you get started the better. This can save you time, money and stress. Make sure you ask for help when you need it. From getting family and friends to help or hiring a professional to get the job done.
If you have any question on our blog. Cleaning House When Moving Out . Or if you are in Brisbane and need packing and moving supplies contact BOX EM UP. As we are more then happy to help you where we can
For a recommend Cleaner from your home to office clean we recommend the following business in BrisbaneR
Talio Nathan 0432 504801 They do Bond and Commercial cleaning
Cardboard Boxes and Packing Supplies BOX EM UP

For all your Cardboard Packing Boxes and Packaging Supplies. For Storing or Moving Contact Roxann at BOX EM UP on 0411676626 or email roxann@boxemup.com.au We have a range of packing supplies to meet your need. Or see our Products and Prices for our full range.