Tips How To Store Your Fridge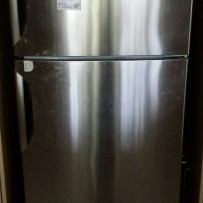 Do you have a refrigerator that needs to go in storage. Here are some tips how to store your fridge so there will be no mold or smells when you go to use it.
If you are moving and need to place your fridge in storage for a period of time. Or you have a fridge that is unused. Here are some tips on how to store your fridge and help prevent mold or smells when you go to use it again. If the fridge is not cleaned and dry thoroughly before going into storage. You run the risk of having your refrigerator covered in mold or can attract pests like ants and mice.
When storing a refrigerator (fridge) one of the greatest concerns is mold. If the fridge is not thoroughly cleaned and dried before being stored. There is a risk it will be in such a state when removed from your storage that it can no longer be used.
Here are some tips how to clean your fridge and have it ready for storage or even just moving and relocating
Give yourself plenty of time to clean and defrost your fridge.
If you are just moving your fridge this can be done the day before you move. if however you are placing your fridge in storage this needs to be done a week before so it has plenty of time to dry out.
Remove all food and unplug the fridge.
Remove trays, shelving anything that can be removed from inside your fridge.
If you have a tray at the back of your fridge that collects water remove this.
Remove excess ice from your freezer if you can. If you need to place a container of hot water in the freezer to help melt the ice.
Depending on your freezer you may need to place towels around your refrigerator for any excess water that may go on the ground
Cleaning your fridge
Once your fridge and freezer is defrosted. All trays and anything that can be removed from your refrigerator has been done. You can start to clean your fridge. Never lay your fridge on its side always keep it upright.
To clean your fridge thoroughly inside and out. Clean any draws, shelving and removable parts. Plus inside your fridge and freezer with warm soapy water.
Make sure you remove all food and anything else that is in your fridge.
Once dry repeat the process with baking soda
Baking Soda. Mix a couple of tablespoons of baking soda with water to clean the refrigerator and freezer.
Clean any trays and draws with the baking soda as well
Make sure you don't use any harsh chemicals like bleach or ammonia and they will damage your fridge.
Wipe everything down with a towel to remove any excess water and baking soda
You can vacuum the back of your fridge to remove excess dirt and dust from the coils and bottom of your fridge. You can also use a dust pan brush if that is easily
Drying out your fridge
Making sure you fridge is completely dry and all moisture is removed is the key to prevent mold
Have the doors to your refrigerator open. Or if you can remove the doors of both the refrigerator and freezer compartments.
With the box of baking soda box. Open the lid and place it in the refrigerator. Place some in your freezer as well. Leave both the freezer and refrigerator doors open for a few days, if possible. This will help to air out your fridge thoroughly and prevent mildew, mold and odor over the period that you fridge is in storage.
Once your fridge is completely dry. Replace the trays and shelving.
To ensure that the build up of mold does not happen. Is to completely remove the doors while in storage or leave the doors ajar by having a object in between the doors and the fridge and freezer.
You can use a teaspoon of vanilla essence with a cup of warm water and give your fridge another wipe down. Once again make sure your fridge is completely dry before going into storage.
Safety tips when storing your fridge
Read the owners manual or contact the manufacture for recommendations on how to prepare your fridge for storage long or short term
Make sure your fridge is unplugged with defrosting and you clean any excess water around your fridge so you don't slip
We all know what children and pets can be like. Having a empty fridge freezer can be dangerous for children and pets. Especially when they start playing around it. Not only can it fall on them but they can also suffocate if they happen to lock themselves in there by accident. Please make sure you either remove the doors while you are cleaning and drying out your fridge. Or have it in a place where they can't access it.
If you are moving your fridge yourself to either a new home or storage. Make sure you secure in tightly to the truck or Ute. So it will not move during transit. Use removal blankets or ropes. If your truck ties has a buckle. Either warp a towel's or something around it so it does not add any dints to your fridge.
This is just a guide if you find this information useful let us know. You can follow us on Twitter, Facebook, Google Plus, Linkedin and Instragram just click on the social media buttons
Or check out our website for more tips on moving and relocating
Thanks for your time. Hope you got something out of our Tips how to store your fridge
Let us know if your found our Tips how to store your fridge helpful or if we can assist you with anything else.
Roxann Coffey
BOX EM UP
Moving and Packing Supplies Brisbane