How To Pack A Bike For Transport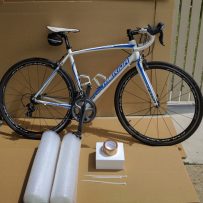 Here are some great tips on How To Pack A Bike For Transport.
From being a professional bike rider. Traveling Overseas for competitions. To a mum or dad who is moving and needs to pack up the family bikes.
Bikes come in a range of sizes. Your bike may not be worth much to costing you thousands of dollars. Use this How To Pack A Bike For Transport as a guide.
You want to make sure it gets from point A to Point B with no problems. As you don't want to spend more money. Especially if you are competing and getting ready for a race. Or selling it onto someone else. You want to make sure it arrives at the destination. So the new owner can enjoy their new bike.
Make sure you get insurance if your bike is in transit interstate or overseas. We recommend goods in transit.
Depending on how much you travel with your bike if you do a lot of riding professionally. You make like to buy a Bike Bag instead. You can get these from your local bike shop.
From Moving locally, Interstate to moving Overseas.
You will need the following items to Pack Your Bike Ready For Transport.
Bike Box or Bike Bag
Tools for your Bike
Cable Ties
Paper, Bubble Wrap, Cardboard or Foam Blocks
Packing Tape
BOX EM UP Brisbane can supply you with the Bike Box and Packing Items you need.
You maybe able to get a Bike Box from your local Bike Shop.
Preparing Your Bike for Transport
When you are removing the handle bars. Replace any screws back into the bike frame tightly.
Remove the pedals. Place these in a zip lock bag if you have one. Or wrap them in bubble wrap
For a precaution. You will need to turn the bike Stem 180 degrees. So it's facing toward the back of the bike.
You can either remove the seat with seat post. Or simple slide it down as far as it can go into the frame. If you do remove the seat.
If you remove the seat. Wrap in Bubble Wrap for added protection while in transit.
Before removing the wheels. Check the chain of the bike. This needs to be on the front largest chain ring. With the rear, It needs to be on the smallest cassette.
Remove the front and rear wheels. Replace back any bolts or quick release back into place to prevent damaged or being lost.
For your front forks and rear dropout. To prevent damage you can get spaces from a bike shop or simply use cardboard or bubble wrap around the frame.
Its best to flatten your tires especially when flying. Leave a little air in the tire to protect the rim
Wrap your bike frame with bubble wrap. Make sure you also wrap your chain, chain ring and cassette at the rear to prevent damaging the frame. Or getting oil from the chain everywhere.
Most Bike bags come with pockets for your wheels. If you are placing these in a box. Wrap them in Bubble Wrap or cardboard.
Use the cable ties to tie the handle bars to the frame of the bike
Any tools you used place in a zip bag and tape either inside the box or to the bike frame. So they don't go missing.
Preparing the Cardboard Box for your bike
Make sure your box is strong and sturdy. Twin or triple wall boxes are ideal for transport.
Seal the bike box with tape. Make sure its good quality strong tape. That sticks well to the box.
If transporting the bike overseas. Seal all around the bottom of the box. Even the corners of the box to prevent people trying to look inside your box
Place crunch up Butchers Paper at the bottom front end of the box. For the front fork of the bike
Place the crunched up paper at the rear of the box where your dropout will be and your chain ring. If you have any foam blocks use this to steady the bike frame. This will add protection to the forks and rear dropout. Also prevents your bike from moving while in transit.
Make sure you bike is packed tight and secure in the cardboard box or bike bag. Add extra packing material if needed. Like rolled up sheets of cardboard to prevent movement in the box while in transit.
Never lie your bike box or bag down. This will prevent items being placed on top of it.
If your bike is going by plane. We recommend you use Jetta Excess Baggage to arrange the transport for your bike. Or contact your airline.
Hope these tips have helped you in some way. Make sure you checkout our Blog and other packing tips on Moving Relocating your Home or Business.
Thanks you for reading our tips on How To Pack A Bike For Transport
If you are looking for a cardboard box or packaging supplies to pack up a bike. Or any thing else you need to pack. Send us the information on the size of box you are after. Will send you a quote. You can use the contact form on this website or simply call Roxann on 0411676626 or email roxann@boxemup.com.au