How To Prevent Injuries When Moving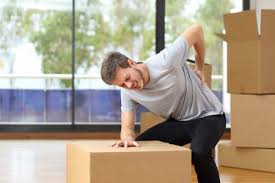 Tips how To prevent injuries when moving and packing. Relocating your home or office is hard work. The last thing you need is to be injured in the process.
Lets face it. We all know that moving is hard work. The last thing you want is a back injury. Or an accident were as you can't finish the job you have started. Accidents do happen from time to time. Most of these can be avoided when you take extra care and don't rush things. Here are some tips on how you can have a save move and prevent injury to not only to yourself but also others helping you move and relocate.
When packing and on moving day. Wear suitable clothing like closed in shoes that are none slip. Plus good fitting clothing. As if they are too loose they may get caught somewhere. Have plenty of water or fluids and food available. Try and get a good night sleep each night. If you plan well in advance and start packing as soon as possible and have everything ready. This will take a lot of the stress out of moving and make the whole process a lot easier on you.
If you have small children or pets that may get in the way. See if you can get someone to look after them when you pack and on moving day. Or do the packing when they are asleep and out of harms way.
If you have a lot of big and heavy items we suggest you hire a professional removal company to move these. ( if you want to save take the smaller items yourself) Check the insurance to make sure you are covered. Give them as much info as you can about your house and where you are moving to . Is there any hazards like stairs or narrow areas where they may find it difficult. Don't try to do these yourself. You could do more harm and damaged to yourself and to others plus your house.
Here are some more ways on how to prevent injuries when moving
Get rid of any hazards waste. Check with the moving company on what they will and will not take. Check with local council on where the hazards waste can go. Packing and getting ready for the moving day.
Set a plan out for each room in your house as well as outside. Start one room at a time unless you have plenty of help for packing. If you have a spare room or space in your garage this is a good place to store your boxes once they are packed and out of the way.
Get good strong quality moving boxes and packing items. Like Tape, Butchers, Paper, Bubble Wrap
So you are not bending down to much. Try and have a work bench when packing. For Example. In your bedrooms use your bed or even a small stable table that you can place the boxes on for packing. Make sure the boxes are stable and not going to fall off . Or the kitchen bench and table
Make sure you seal the base of the box with good quality strong tape. Depending on the size of the box you may need to place the tape length ways then width ways. If the box is big then do the width ways a few times. Once at one end. The Middle then the other end of the box.
Before fill the boxes up to the top. Fill them half way and check the weight. Make sure you can lift it. If you still have room in the box and its feeling a little heavy. Either take items out or fill it to the top with lighter items.
Check the weight before you seal the box. Mark the box clearly as to what is in the box.
Before you move the box. Make sure your path is clear to where you are going to store the box. Check that there is nothing in your way that you will trip over
When lifting a box. Be sure to bend at the knees and keep your back straight. Make sure the weight is supported by your legs and not your back. Keep the boxes close to your body and do not twist at the hips. Move your whole body instead.
Don't over do it. If it looks heavy get help. Get the professional to move the heavy items like furniture and electrical equipment.
10. Check the weather guide for moving day and make sure if you think its going to rain that you have appropriate clothing ready also a change of cloths and shoes if need be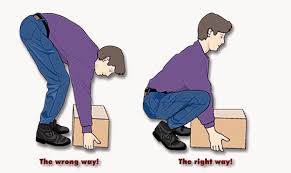 Moving Day Has Arrived
Do a check before you start your day. Is everything easy to get at especially your larger items like furniture. As they are loaded onto the truck first.
Also make sure there is no tripping hazards around. Like slippery tiles or payments and stairs are clear.
If it is raining have plenty of towels available and keep the floor dry especially if you have tiles.
If it is a hot sunny day make sure you wear sunscreen and have plenty of fluids ready.
Keep the doorways and stairs clear.
With your fridge and other electrical items make sure the cable and cords are tied up
Do not rush but take your time.
Don't lift anything that is to heavy or large for you
Accidents do happen so make sure you phone is fully charged and emergency contacts are available should they be needed.
Have a first aid kit handy
Pay attention to what your body is telling you. If you need to rest take it easy and have a break
All these tips also go for when you unload the truck and move into the new home.
Unpacking can be dangerous too. If the boxes were not packed well. Items could be broken. So take care when unpacking.
Thank you for reading our tips on How To Prevent Injuries When Moving. Please feel free to check out our Blog and other tips on moving and packing.
All the best with your up and coming move. If you have any questions please feel free to contact us be more then happy to help you where we can.
Roxann Coffey
BOX EM UP
MOVING PACKING AND STORAGE SUPPLIES BRISBANE
Call 0411676626 or email roxann@boxemup.com.au for all your Cardboard Boxes and Packaging Supplies . We delivery all over Brisbane, Gold Coast and Sunshine Coast.
Not only do we have tips on how To prevent injuries when moving. Please see our blog on other great tips and ideas when it comes to moving.