How To Pack Mirrors And Glass For Moving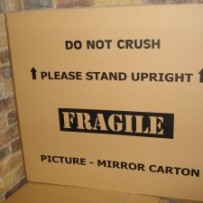 Here are some tips on how to pack mirrors and glass for Moving. If packed correctly this will prevent breakage while in transit.. These tips will help prevent damage and cracks in your glass. As well as keeping you safe while wrapping your items. As your mirror, glass table top or panels are delicate and need extra care when packing and transporting.
Have everything ready for packing your mirrors or glass. Think about how you are going to pack and move them safely. Not only for you packing but also while its in transit. Measure your mirrors and glass so you have everything ready to go.
You will need Masking Tape or Duct tape and good strong quality Packing Tape. Cardboard Boxes and Cardboard Sheets if you can get them. We recommend Pro-wrap or you can use bubble wrap and removal blankets for wrapping.  Keep the glass upright at all times . Do not lie it flat
first you need to use masking tape or duct tape to place tape in the shape of an "X" across the glass. This will add extra strength to the glass. Should it get damaged will help keep the rest of the glass together and prevent it from shattering.  Protecting yourself when moving the glass panels or mirror
Protecting the corners and your hands
If the glass panels or mirror does not have a frame. If this is just a sheet of glass. Please be careful when wrapping and moving. If you don't have cardboard corners. You can cut up pieces of cardboard to fit the corners and tape these securely to the glass so they do not move.  These will help protect the corners and yourself while moving it around. If its a large sheet we recommend placing another piece of cardboard in the middle of the four sides to make it easy to move. Keep the glass upright. Don't lie it flat on the ground. Place in between two large items like your lounge suite.
Have your sheets of cardboard or what you are going to wrap your glass or mirror in. Pro wrap or bubble wrap. Start wrapping your glass. If using only 10mm bubble wrap. Wrap it a few times and tape up securely. You can also use a removal blanket.
Top tip when storing your mirror if it has a wooden frame. We recommend using cardboard or pro wrap first rather then bubble wrap. As should your item get hot while in storage. The bubble wrap can damage your frame.
 Boxes for your Glass or Mirror.
Having a cardboard box for packing is a great idea. It will help protect you and your item while in transit and make it easier to move around. Make sure you have the right size will make the job easier. If need be . Get two boxes and use one as the base and the other as the lid. Cut down to size so its not to big and seal with packing tape.
Don't forget to Label your box so not only you but the person loading the truck knows what is in the box. That way it can be placed in a safe place in the truck.
The removal company will know where to place it in there truck. If you are loading the truck yourself. Make sure it is secure and no other items will move or smash into the side of the box while in transit. If you have it in between two lounges or larger furniture but not to tight. Lying your mirror down can cause it to break. Same with placing items on top.
Unpacking Your Mirror or Glass
Keeping it upright at all times. Move the box to where you want the mirror or glass to go. Being careful when unwrapping your package. Place a sheet or something under your box as a precaution should the glass have being broken while in transit. If all is good. Place the items where it needs to be. When moving the masking tape or duct tape from where you placed the X . If there is a sticky residue. You can use double d eucalyptus or Methylated spirits to remove this.
If your item is expensive we recommend you insure your items. Clink on Allianz goods in transit Insurance . As they can insure your items while they are in transit or storage.
Hope our tips on How to pack mirrors and glass for Moving will help you in someway. This is just a guide.
Should you have any questions or if we can help you in someway. Please let us know. Be more then happy to help where we can.
Why we recommend Pro Wrap. Pro warp is a product that is stronger then Bubble Wrap and gives you that added protection and piece of mind.  Its is Non abrasive, moisture and tear resistant. It is like bubble wrap but has a few layers. This product has a material base on one side to help protect your items such as frames and paintings. A tough plastic outer cover to help protect from tearing and moisture.
Thank you for time and looking at our tips on How to pack mirrors and glass for Moving
Please feel free to checkout our blog and other tips to help you with your moving and packing. Plus our full range of products and prices.
Kind Regards
Roxann Coffey
BOX EM UP
Moving Packing and Storage Supplies Brisbane