Cardboard Shipping Boxes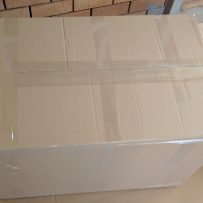 Having the right Cardboard Shipping Boxes to send your items overseas. Will help make sure your items arrive safely. Pack the box right and your items will arrive undamaged
Finding The Right Cardboard Boxes For your Business or Shipping items overseas

We can help you find the right Cardboard Box and Packaging Supplies from one box to bulk Buys for your shipping needs to business packaging supplies. We can help you save time and money. With Pick up and delivery available.

Did you know we can even help you pack your items to shipping. Contact us as conditions apply
Twin Wall Boxes are great for sending your items overseas. This adds greater protection while your boxes are in transit.
With a range of Cardboard Shipping Boxes. We will help you find the right cardboard boxes you need for sending items overseas. From sending gifts to loved ones for Birthdays and Christmas. To sending your household items from TV's to clothing. We have the right boxes for you. Contact us if you need help packing. As we will help find the right person for the job. from a house move to packing a container. To one or two boxes.
Tips on packing cardboard boxes for sending overseas
Every country is different. Check with customs in that country to see what you can can can't pack
Prohibited items can include foods furs, alcohol and flammable objects
If you are only sending a few items. Seal the box all around the joints. This will stop people trying to peak in and see what you are sending over.
Any breakable or expensive items. Wrap them in towels and pack in the middle of the box.
Used good quality packing tape to seal your box
Get insurance. Make sure your items are covered by insurance. Read the fine print of your contract.
Pack the box tight so your items do not move around. This can cause damage to the box and to your items
Use Void Fill or Butchers Paper for filling
Put your heavier items at the bottom of the box.
Make sure you check the weight of the box. That it won't be to heavy to lift. Check with the weight restriction with the company you are sending your items items through
Know how your items are being sent. Either by plane or boat. That way you will know roughly how long it takes.
Especially around Christmas time. Try and send your items at least 4-6 weeks in advance. That way your items will arrive in time to be opened on Christmas day.
Having your boxes clearly labeled will help in making sure your box does not get lost in transit.
Mark your box clearly with the destination on it. Make sure all your customs declaration and taxes are paid for.For Transit Insurance we highly recommend AllianzIf you are only shipping a few things overseas We suggest Jetta Excess BaggageHere is the link for Australia Post Calculator Postage and Delivery Times
If we can assist you with anything at all. Please let us know.
Roxann Coffey
BOX EM UP
We also now have Polystyrene Boxes 48lt. These are Transport and Airline approved. The internal Dimensions are 520x330x278mm External Dimensions are 575x385x325

Please let us know if you require any Cardboard Shipping Boxes. With a range of products in our store room. We have all your packaging supplies ready and available to assist you with what ever it is that you need. If we don't have it in stock will source it for you.
Contact Roxann on 0411676626 or email roxann@boxemup.com.au if you have any questions about our cardboard shipping boxes. Or any other packing supplies you may need.